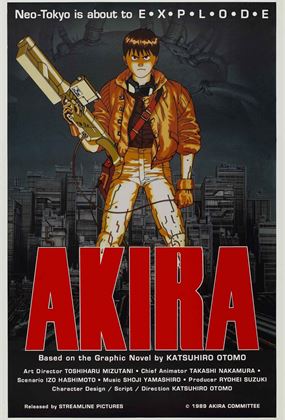 AKIRA - 35MM + DISCUSSION
SCIENCE. ART. FILM.
Thu Apr 27 6:00 PM
Arc Cinema
Allocated Seating
19
88
|
35mm
|
Japan
| D:
Katsuhiro
Ôtomo
'The future is not a straight line. It is filled with many crossroads. There must be a future that we can choose for ourselves.'
The Japanese animated cyberpunk film
Akira
(1988) is considered by audiences and critics worldwide to be one of the greatest and most prophetic films of all time.
It provides unforgettable glimpses into the dystopian metropolis of Neo-Tokyo, the lives of futuristic high-speed gangs and the psychic and transcendent powers that one of the protagonists develops. The film revolves around nuclear-energy-caused telekinesis, destruction, rebirth, technological revolution – and much more.
What do technology and culture scholars today think about the kinetic energy of the iconic animated film and its vision of future technology and science? Find out together with our expert guest speakers!
Presented on a 35mm film print from the NFSA collection.
Speakers
Zach Karpinellison
is a PhD candidate in the Interdisciplinary Cross Cultural Research stream at ANU. His research considers the NFSA and its restoration programs. He has a particular interest in strange and hidden cult gems from the 70s and 80s, including some of Australia's own classics like
Wake in Fright
(1971) and
Starstruck
(1982). He argues that the NFSA is more than an archive, and is itself something of a filmmaker collective - every bit as creative as it is technical.
More speakers will be added soon.
Arc Cinema
1 McCoy Circuit Acton, Australian Capital Territory, 2601