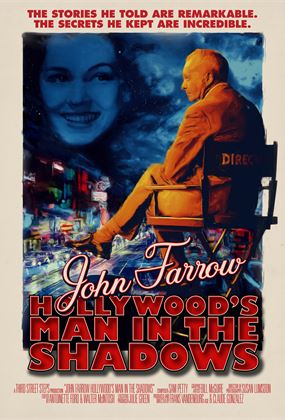 CIFF 2022: JOHN FARROW - HOLLYWOOD'S MAN IN THE SHADOWS
Sat Aug 27 4:15 PM
Arc Cinema
General Admission
2021 | DCP | AUS | D: Claude Gonzalez & Frans Vandenburg
JOHN FARROW: HOLLYWOOD'S MAN IN THE SHADOWS
is the first documentary ever made about one of Hollywood's most prolific yet forgotten filmmakers, John Villiers Farrow (1904-1963). Part mystery, part biography, part film noir, the documentary follows the stranger-than-fiction story of this Australian-born, Oscar-winning filmmaker. One of Hollywood's most enigmatic figures, Farrow was the director of some 50 films. He was also a sailor, a poet, a war hero, best-selling author, a religious scholar, a family man and a philanderer – a man who lived many lives. He left no memoirs, no interviews and no archival footage, and until now, has been an elusive shadow in the telling of film history. This documentary is a riveting, meticulously researched and beautifully assembled achievement – indeed a masterwork in its own right - by two Australian filmmakers, Claude Gonzalez and Frans Vandenburg who will be visiting CIFF to introduce the Farrow films and for Q&As.
Introduced by Special CIFF Guests: directors Claude Gonzalez and Frans Vandenburg.
For one special price, the
CIFF Gold Pass
will secure entry to all eight films in the festival!
Arc Cinema
1 McCoy Circuit Acton, Australian Capital Territory, 2601