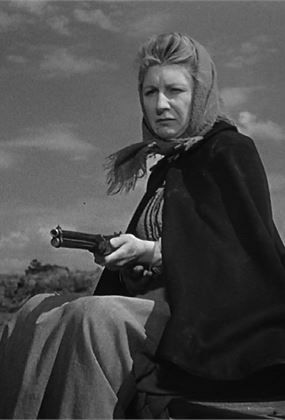 CIFF 2022: PURSUED
Sat Aug 27 11:00 AM
Arc Cinema
General Admission
1947
| DCP |
US
 A
|
D:
Raoul Walsh
 With Robert Mitchum, Teresa Wright, Judith Anderson, Dean Jagger, John Rodney

Mitchum and Anderson flourish in this dark psychological western. On the American frontier, a mother adopts a waif and as the years pass tries to keep her family together and to suppress increasing rivalries and sexual tensions. Haunted by half-remembered childhood trauma, Mitchum is at his best, strongly matched by Judith Anderson as the vulnerable matriarch, the keeper of terrible secrets.
Filmed by Raoul Walsh with the deep shadows and emotional intensity of a noir thriller, PURSUED was applauded in its day: "A Western that overhauls and modernizes the entire tradition of western movies …" wrote Jack Moffitt in Esquire, admiring Anderson's "brilliant delineation of a pioneer mother who found the wilderness a hell". More recently, Paul Taylor in Time Out called it "a superb Western film noir … proving that the late '40s noir sensibility spread way beyond the bounds of the urban crime thriller."
Introduced by Special CIFF Guest: Prof Desley Deacon
For one special price, the
CIFF Gold Pass
will secure entry to all eight films in the festival!
Arc Cinema
1 McCoy Circuit Acton, Australian Capital Territory, 2601