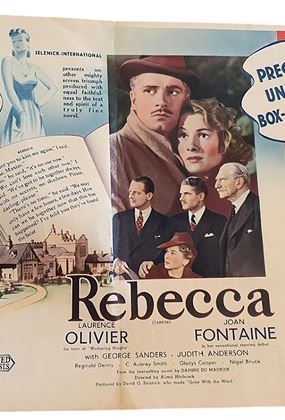 CIFF 2022: REBECCA
Fri Aug 26 7:30 PM
Arc Cinema
General Admission
1940
| DCP |
US
|
D:
Alfred Hitchcock
With Laurence Olivier, Joan Fontaine, Judith Anderson, George Sanders
Hitchcock's first Hollywood feature was a big-budget adaptation of Daphne du Maurier's best-seller. With the best of studio resources to work with, Hitchcock reveled in evoking the malevolent power of Laurence Olivier's dead wife, Rebecca, over the new bride who replaces her in the dark, eerie mansion of Manderley. There the household is ruled by the stern and manipulative Mrs. Danvers, played with flawless skill by Judith Anderson. Channeling the evil spirit of Rebecca, Anderson added sexual overtones to the role that worried the Hollywood censors and contributed to her gaining iconic status among LGBTIQ filmgoers. The role was a career-changer for Anderson, taking her from Broadway stardom to becoming a highly valued character actress in Hollywood. Nominated for an Oscar for
REBECCA
, she went on to feature in many high-profile studio productions, and later in television, alongside continuing theatrical success.
Introduced by Special CIFF Guest: Prof Desley Deacon, historian and author of Judith Anderson - Australian Star, First Lady of the American Stage (Kerr Publishing, Melbourne, 2019)
For one special price, the
CIFF Gold Pass
will secure entry to all eight films in the festival!
Arc Cinema
1 McCoy Circuit Acton, Australian Capital Territory, 2601