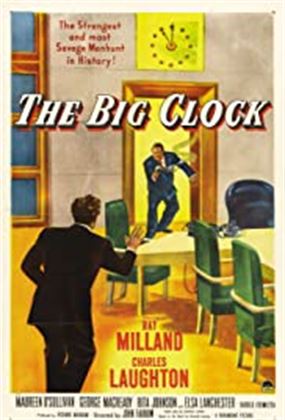 CIFF 2022: THE BIG CLOCK
Sat Aug 27 7:30 PM
Arc Cinema
General Admission
1948 | DCP | USA | D; John Farrow
With Ray Milland, Maureen O'Sullivan, Charles Laughton,
Elsa Lanchester
An impeccable noir thriller,
THE BIG CLOCK
covers one night in the life of a crime journalist involved with a woman who is found murdered, and discovers that he is being framed as the prime suspect. As the trap closes in on him, he fights back in a race against the clock, in an attempt to identify and confront the real killer. Charles Laughton clearly relishes his role as Milland's boss, a megalomaniacal publishing tycoon. Often acknowledged as one of Farrow's best works and a superb example of a late-40s noir thriller, the film is brilliantly constructed by screenwriter Johnathan Latimer (a frequent Farrow collaborator), and perfectly visualized by cinematographer John F. Seitz, with great interplay of darkness and light, and claustrophobic settings.
"Strong performances … evocative direction … and marvelous high contrast photography, portraying a world in which nothing is as it seems." - Geoff Andrew,
Time Out, London
.
Introduced by Special CIFF Guests: Claude Gonzalez and Frans Vandenburg, directors of the Farrow documentary.
For one special price, the
CIFF Gold Pass
will secure entry to all eight films in the festival!
Arc Cinema
1 McCoy Circuit Acton, Australian Capital Territory, 2601