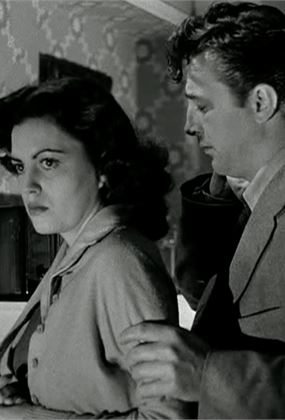 CIFF 2022: WHERE DANGER LIVES
Sun Aug 28 4:15 PM
Arc Cinema
General Admission
1950 | 35MM | USA | D; John Farrow

With Robert Mitchum, Claude Rains, Faith Domergue,
Maureen O'Sullivan.

SCREENING IN A SUPERB CONDITION 35MM PRINT FROM THE NFSA!

Farrow's extraordinary skill with actors and the minutiae of their performance creates two of the best characters in his oeuvre: Mitchum brings total conviction to his damaged, vulnerable character, and is a brilliant foil to Faith Domergue in her first major role and probably her career-best performance. Domergue plays a psychotic woman on the run from a dangerously flawed marriage, who convinces a doctor to help her. Most of the film takes place at night, beautifully photographed by Hollywood's legendary noir cinematographer, Nicholas Musuraca. The film's intense focus on the evolving relationship of the two fugitives culminates in a riveting 8-minute take in a seedy hotel room where emotions explode and a breathtaking climax unfolds. A sadly under-rated noir masterpiece, this film alone justifies a place for Farrow in the pantheon of great Hollywood auteurs.

Introduced by Special CIFF Guests: Claude Gonzalez and Frans Vandenburg, directors of the Farrow documentary.
Arc Cinema
1 McCoy Circuit Acton, Australian Capital Territory, 2601