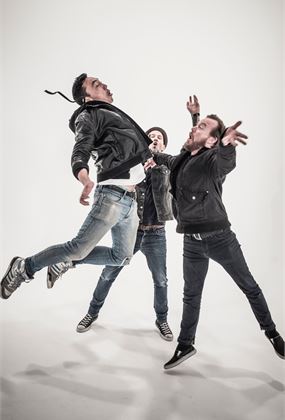 CLASSIC AUSTRALIAN ALBUMS: UNIT BY REGURGITATOR
Fri Oct 21 7:00 PM
Arc Cinema
Allocated Seating
WITH SPECIAL GUESTS BEN ELY, QUAN YEOMANS, LACHLAN (MAGOO) GOOLD AND PAUL CURTIS + BOOK LAUNCH
The seminal Australian album
Unit
catapulted into the charts when it was released in November 1997 with its mixture of 1980s-style synthesised pop music and alternative rock. This second studio album from Australian legendary band Regurgitator went on to win five ARIA Awards, including the 1998 ARIA Award for Album of the Year.
Following the success of their first album
Tu-Plang
, the band defied expectations and did a complete 180 to embrace an electronic and pop-based sound. With tongue in cheek,
Unit
's
opening track is the wonderfully titled '
I Like Your Old Stuff Better Than Your New Stuff', followed by fantastic hits such as 'Polyester Girl' and '! (The Song Formerly Known As)'
.
Join Ben Ely, Quan Yeomans, Lachlan (Magoo) Goold and Paul Curtis as we delve into the creation of
Unit,
its influences and styles, and the creative process that made it such a classic Australian album.
Classic Australians Albums
is exclusive to the NFSA. It's a chance to join legendary Australian musicians in person for a conversation and celebration of their band and of the album that defined them. Explore great Australian music that was audacious, exciting and creatively different and find out how the album defined a particular time in Australian music history.
In conjunction with this will be the launch of the Bloomsbury 33 1/3 Oceania series Regurgitator's UNIT.
The book as authored by Lachlan (Magoo) Goold and Lauren Istvandity situates the development of
Unit
amongst the DIY culture of a politically charged Brisbane scene, and breaks down the album through the lens of recording and songwriting processes; outlining the impact of Regurgitator's music locally and globally, by discussing what made Unit a success at the peak of the alternative music genre. The book will be available on the night along with a signing.
BIOS
REGURGITATOR
was formed in Brisbane in late 1993 by core members Quan Yeomans and Ben Ely, along with drummer Martin Lee, playing their first show in March 1994 for Friends of the Earth. Current drummer Peter Kostic joined in late '99. They have released numerous EPs and albums that they have recorded in dubiously idiosyncratic scenarios:
Tu-Plang
(1996) in the jungle outskirts of Bangkok; the pixel-obsessed 80s jolt of
Unit
(1997) in a condemned Fortitude Valley warehouse;
...art
(1999) in a sun-soaked Byron Bay beachside house;
Eduardo and Rodriguez Wage War On T-Wrecks
(2001) amidst the red-brick backstreet of (Gang of Four) Andy Gill's London studio;
Mish Mash!
(2004) in a glass panopticon installed in Melbourne's Federation Square as part of the disruptive Band in a Bubble pastiche of reality shows;
Love and Paranoia
(2007) in a bullet-riddled studio in Rio de Janeiro under the looming rock arms of Corcovado;
Super Happy Fun Times Friends
(2011) in a Melbourne shopfront; and
Dirty Pop Fantasy
(2013) in a Hong Kong skyscraper apartment; and more recent meta-virus album #9
HEADROXX
(2018) that was fabricated over the internet.
In the past 28-plus years they have toured all over Australia, NZ, Japan, UK, Europe, USA, Asia and the Middle East along with many festival inclusions including the Big Day Out, Clokenflap, Reading, Fuji Rock, Groovin' the Moo, The Falls and Meredith. Always drawn to the odd they collaborated with dance choreographer Gavin Webber on the live music-dance project
Rock Show
; worked with the Handspan Puppet Theatre on
Raised by Wolves
for the Melbourne Fringe; performed a self-written live soundtrack to Japanese film
Akira
(1988) at the Sydney Opera House; reproduced the debut Velvet Underground album in conjunction with Chinese collaborator Mindy Meng Wang; a cinema release of the one-off UNIT20 performance; and the riotous kid fun of the
Pogogo Show
… Still touring and flooring it… more than ever they find themselves extending the vitality of their live performances, continuing to infuse them with exuberance, mania and their mashed-up motion of rock, punk, electro, funk, pop, hip hop... wherever-the-tune-goes vibes.
MAGOO
Dr Lachlan Goold is a recording engineer, producer, mixer, popular music educator, researcher and lecturer in contemporary music at the University of the Sunshine Coast, Australia. His research focuses on practice-based music production approaches, theoretical uses of space, cultural geography and the music industry. In his creative practice, he is better known as Australian music producer Magoo, a 2-time ARIA award winner. Since 1990, he has worked on a wide range of albums from some of the country's best-known artists, achieving a multitude of Gold and Platinum awards. Dr Goold worked with Regurgitator as their recording engineer and producer across 8 releases:
Regurgitator
(EP),
New
(EP),
Tu-Plang
,
Unit
,
...art
,
Mish Mash!
,
Love and Paranoia
, and
Bong in My Eye
(EP).
PAUL CURTIS
Paul Curtis functioned under the CONSUME/VALVE moniker for approximately 30 years combining management, touring, record releases, venue and event booking etc. He managed Brisbane's REGURGITATOR since 1994. He has produced tours for international artists including Peaches, Ratatat, Moon Duo, Boredoms, Shonen Knife, Trans Am, JD Samson, Chicks on Speed plus various Chinese, Japanese and Indonesian bands – conducting shows and tours across Australia, New Zealand and Asia. He conceived and produced the multi-media recording installation Band in a Bubble in Federation Square, Melbourne with Regurgitator and Channel [V] in 2004. He curated the Brisbane Gallery of Modern Art Up Late and Melbourne National Gallery of Victoria Friday Nights at NGV music programs for 13 years. He does visual art, loves music, reading and more. Just keeps hanging on to the optimism!
Arc Cinema
1 McCoy Circuit Acton, Australian Capital Territory, 2601