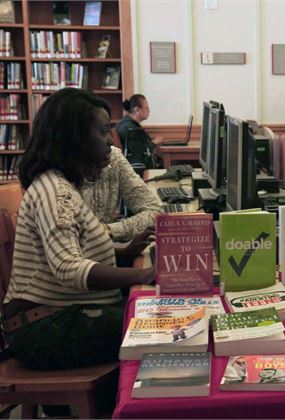 EX LIBRIS - THE NEW YORK PUBLIC LIBRARY
Frederick Wiseman Season
Sun Oct 9 1:00 PM
Arc Cinema
Allocated Seating
2017 | DCP | USA | D: Frederick Wiseman
O
ne of the greatest knowledge institutions in the world
,
opens its many doors to us in this riveting behind-the-scenes exploration.
With 92 branches
spread
across the city, The New York Public Library is a vital resource – and determined to
re
main so
in the 21st century. In this fascinating tour, we encounter passionate readers,
archivists and educators, budget-focused administrators and inspiring speakers
(
including Patti Smith and Elvis Costello
)
. Wiseman films in grand marble foyers, crowded annexes and anonymous meeting rooms, creating a mesmerising portrait of a rich and diverse institution. There is no need for talking heads to attest to the value of NYPL's
social and cultural mission: the humble observation of people at liberty to learn, question and interact compellingly states the case. And confirms the importance of libraries everywhere.
"In 
Ex Libris
, democracy is alive and in the hands of a forceful advocate and brilliant filmmaker, which helps make this one of the greatest movies of Wiseman's extraordinary career and one of his most thrilling."
–
Manohla
Dargis
, 
N
ew
Y
ork
Times
Arc Cinema
1 McCoy Circuit Acton, Australian Capital Territory, 2601