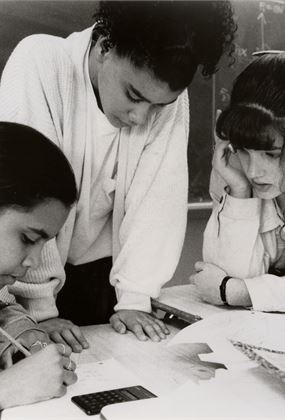 HIGH SCHOOL II
Frederick Wiseman Season
Sun Jul 24 1:00 PM
Arc Cinema
Allocated Seating
1994 | 16MM | USA | D: Frederick Wiseman
A tradition-busting New York City classroom provides an absorbing and optimistic setting for Wiseman's second film looking at the American high school system.
Twenty-five years after he focused his gaze on a lower-middle class
, urban
school in Philadelphia,
Wiseman
went uptown, in 1992, to Central Park East Secondary School in Spanish Harlem, New York.
Here, learning is not by rote and students are actively engaged in the educational process.
Scenes of informal discussions between students and teachers, staff meetings and family conferences reveal how this progressive institution
's
alternative approach
eschews authoritarian teaching. Instead, students
are encouraged to deepen their thinking and
talk openly. Conflict resolution is on the roster, as are techniques for putting on condoms.
King Lear
draws comparison with a crime family.
Immigration
law
provokes
raucous debate.
'Each episode of
High School II
creates a tiny drama of its own, until the film assumes the breadth of a mini-series and the fascination of a trenchant novel of manners.' – Caryn James,
N
ew
Y
ork
Times
Arc Cinema
1 McCoy Circuit Acton, Australian Capital Territory, 2601