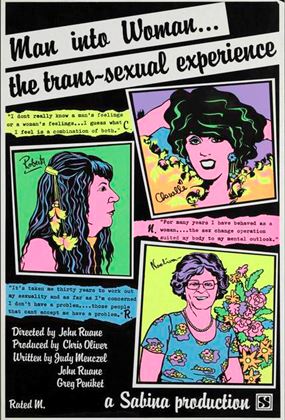 MAN INTO WOMAN: THE TRANSSEXUAL EXPERIENCE
INTERNATIONAL TRANSGENDER DAY OF VISIBILTY Presented in association with A Gender Agenda
Wed Mar 31 6:00 PM
Arc Cinema
General Admission
1983 | DCP | AUS| D: John Ruane

Man into Woman is the first documentary about Australian trans lives. Given only a limited release in 1983, it has rarely been shown since.

Filmed in Sydney in 1981, the film unusually seeks to provide a voice for trans women and men of the time, in contrast with the sensational viewpoints that were a feature of most reportage of the period.

Man into Woman features eight interviews with trans women and men, interspersed with the views of 'authority' as represented by figures like the then Attorney-General of NSW Frank Walker.
The film was a turning point in the Australian media for understanding the complexity and diversity of the trans experience.

The NFSA is proud to have this film in our collection and we have digitised the 16mm print to be able to share it with a wider audience.
Join A Gender Agenda following the screening for a conversation between Tate McAllister, Senior Program Coordinator (A Gender Agenda) and Sophie Pezzutto about visibility, the film, its relevance to the present, and to the work of A Gender Agenda.

About A Gender Agenda
A Gender Agenda is an organisation that supports the intersex, trans and gender diverse communities of Canberra and the surrounding region through education, advocacy, and peer support.


Tate McAllister is the Senior Program Coordinator at A Gender Agenda. Alongside his work, Tate is completing a PhD in Sociology at the Australian National University where he researches trans masculinity, embodiment and the historical medicalisation of trans people.

Sophie Pezzutto is an academic, activist and trans sex worker based in Canberra. As part of her PhD in Anthropology at the Australian National University, she spent 12 months living in Las Vegas and Los Angeles, conducting an ethnographic study of the trans pornography industry. She has written for TSQ: Transgender Studies Quarterly, The Conversation and AG: About Gender and her research has been cited in Forbes, Buzzfeed, and Mother Jones.
Arc Cinema
1 McCoy Circuit Acton, Australian Capital Territory, 2601