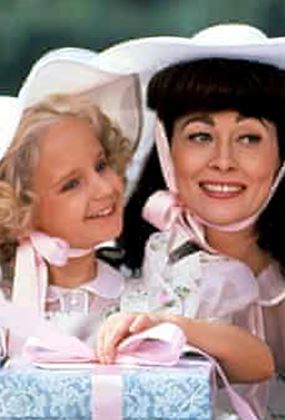 MOMMIE DEAREST – BAD MOVIE BINGO
ARC OUT LOUD
Fri Feb 26 8:00 PM
Arc Cinema
General Admission
1981
|
DCP | USA| D:
Frank Perry
Continuing our series of interactive, 'out loud' screenings. Some films deserve hushed reverence and quiet contemplation... these are not those films.
In this
adaptation of
Christina Crawford's
infamous
book about
her upbringing
, glamorous yet lonely star Joan Crawford (Faye Dunaway) takes in two orphans, and at first their unconventional family seems happy. But after Joan's attempts at romantic fulfillment go sour and she is fired from her contract with MGM studios, her callous and abusive
behaviour
towards her daughter Christina (Diana
Scarwid
) becomes even more pronounced. Christina leaves home and takes her first acting role, only to find her mother's presence still overshadowing her.
Mommie
Dearest
divided
critics upon its release but found a home with cult
and queer
audiences in the decades since.
Come revel in the films camp glory and play along with a round of bad movie bingo!
'
Mommie
Dearest
becomes a kind of homage to the monster herself – emotions are splendid, the scenes so dramatic, the experience so incandescent' -
The Spectator
Arc Cinema
1 McCoy Circuit Acton, Australian Capital Territory, 2601