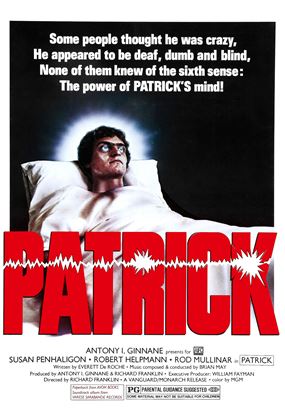 PATRICK
AUSTRALIAN NEW WAVE CINEMA SERIES
Sat Sep 16 1:00 PM
Arc Cinema
Allocated Seating
1978 | DCP | AUS | D: Richard Franklin
Patrick (Robert Thompson) has been in a coma since he murdered his mother and her lover 3 years ago. He is a patient in a private psychiatric clinic run by Dr Roget (Sir Robert Helpmann), who treats Patrick as a guinea pig in his study of the transition from life to death.
Nurse Kathy Jacquard (Susan Penhaligon) has just started work at the clinic. When Matron Cassidy (Julia Blake) instructs Kathy to care for Patrick, the nurse realises he can communicate from within his coma.
When Patrick uses his psychokinetic powers to contact Kathy, strange and dangerous events begin to occur and soon Kathy – and those closest to her – are in deadly danger.
Patrick
is an essential film of respected Australian director Richard Franklin (1948–2007), a master of the supernatural thriller with an international career including
Psycho II
(1983)
.
Patrick
proved that Australia had the capacity to export horror movies and thrillers, and Franklin won Best Director at the prestigious Sitges Fantasy Film Festival in Spain for this Ozploitation classic.
'The inert lead, with help from Richard Franklin's shrewd direction, creates an incredible menace'
–
Variety
This film is held in the NFSA collection.
Presented in collaboration with Umbrella Entertainment.
Arc Cinema
1 McCoy Circuit Acton, Australian Capital Territory, 2601