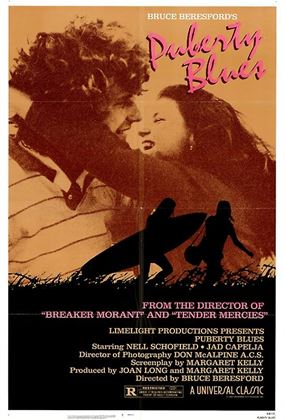 PUBERTY BLUES
AUSTRALIAN HEAT!
Sat Jan 16 2:00 PM
Arc Cinema
General Admission
1981|35 mm | AUS | D: Bruce Beresford

Bruce Beresford's classic coming-of-age film traces the lives of two adolescent girls desperately trying to break into the popular group.

Sue and Deb live a suburban middle class Australian 70s life. Having spent the first part of their lives in a group by themselves, their dreams of being part of the "it" crowd is their only objective. On a stinking hot Sydney day, the two teenagers make their way down Cronulla Beach in the hope to ingratiate themselves with the cool group. Here, surfie boys are watched and waited on by their adoring, subservient girlfriends.

Afternoons are spent on the beaches, in the backseats of cars or at home-alone-parties where sex and alcohol are the main ingredients
Released in 1981, Bruce Beresford's iconic Australian film remains an unsentimental summer treat, a girl-powered trip to the beach without rose-coloured sunglasses.
Arc Cinema
1 McCoy Circuit Acton, Australian Capital Territory, 2601