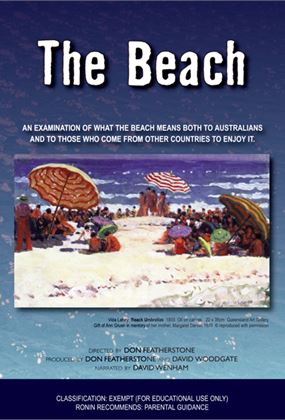 SATURDAY SCREENINGS: THE BEACH
Sat 3 Sep 2:00 PM
Arc Cinema
Allocated Seating
2000 | DCP | AUS | D: Don Featherstone
Inspired by Geoffrey Dutton's book 
Sun, Sea, Surf and Sand: The Myth of the Beach
 (1985), this film looks at how Australia came to be the most beach-conscious nation on Earth. This is reflected in the way the beach has been celebrated and mythologised.
The documentary interweaves sunlight-drenched beach cinematography with historical footage, feature film extracts, photographs and paintings. It also features readings and interviews with writers and artists.
For Australia's artists, the attraction of the beach – with its great variety of colours, range of social types, symbols and myths
–
has been irresistible. We can see through their work that, during the 20
th
century, the beach replaced the bush as the site of cultural significance upon which national dramas, big and small, played out.
The film
is
narrated by David Wenham
and features original music by Peter Sculthorpe as well as over 100 examples of beach-related art and literature. Interviewees include Tim Winton, Les Murray, Gabrielle Carey, Graeme Murphy, Juliana Engberg, Ken Done, Peter Sculthorpe, George
Ganyjibala
, and Anne Zahalka,
all of
whose work has been influenced by the beach.
What emerges is a range of perspectives and representations, both contemporary and historical, on the changing place of the beach in the nation's culture.
Saturday Screenings is a free program of film screenings presented monthly in partnership between the National Gallery of Australia and National Film and Sound Archive of Australia.
This title is held in the NFSA collection.
Arc Cinema
1 McCoy Circuit Acton, Australian Capital Territory, 2601