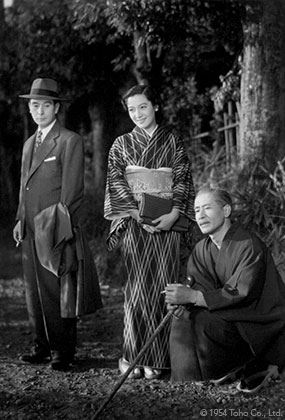 SOUND OF THE MOUNTAIN (山の音)
JAPANESE FILM FESTIVAL SPECIAL SERIES 2022
Sat Nov 5 11:00 AM
Arc Cinema
Allocated Seating
1954 | 35MM | Mikio Naruse
Mild themes
Declared to be one of Naruse's favourite works,
Sound of the Mountain
tells the complicated story of a post-war Japanese family from the perspective of the patriarch Shingo (Sō Yamamura). The crumbling marriage between his son Shūichi (Ken Uehara) and Kikuko (Setsuko Hara), Shūichi's clandestine affairs and Shingo's daughter Fusako's (Chieko Nakakita) unstable marital life are the thought-provoking events that force Shingo to face how the women in his life are bound to suffering due to inherently unfair social codes. While Kikuko finds herself caught between tradition and modernity, she is uncertain whether she has the right to escape her unhappy marriage in favour of her own integrity and a merrier future.
Through slow and allusive interchanges and meaningful silences that allow room for poetic contemplation, Naruse's adaptation of Yasunari Kawabata's original novel inserts Shingo in a series of disconnects between man and woman, parent and child, forcing him to realise that all he can do for the younger generation is set them free from the failures of their ancestors.
Japanese with English subtitles
©1954 Toho Co., Ltd.
Arc Cinema
1 McCoy Circuit Acton, Australian Capital Territory, 2601