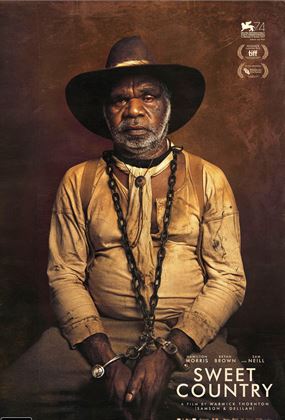 SWEET COUNTRY
Warwick Thornton Retrospective
Sat Jun 19 2:00 PM
Arc Cinema
General Admission
Screening with short film Black Chook

Inspired by real events, Sweet Country is a period western set in 1929 in the outback of the Northern Territory, Australia.

When Aboriginal stockman Sam (Hamilton Morris) kills white station owner Harry March (Ewen Leslie) in self-defence, Sam and his wife Lizzie (Natassia Gorey-Furber) go on the run. They are pursued across the outback, through glorious but harsh desert country.
Sergeant Fletcher (Bryan Brown) leads the posse with the help of Aboriginal tracker Archie (Gibson John) and local landowners Fred Smith (Sam Neill) and Mick Kennedy (Thomas M. Wright). Fletcher is desperate to capture Sam and put him on trial for murder – but Sam is an expert bushman and he has little difficulty outlasting them. Will Sam be captured and will justice be served?

'Uncompromising, deliberate, and eerily beautiful, director Warwick Thornton's rugged Australian Western puts a new spin on an old story' - Seattle Times

BLACK CHOOK
D: Dylan River | 2016 | 15min | Australia

They were Australia's bad days.
Men killed other men and laughed.
All that was left for the children of the dead was to remember,
if they had the strength.

An Aboriginal man returns to the town where his relatives live and discovers a painful family history and responsibilities and obligations he's unsure he wants. Based on Bruce Pascoe's novel Bloke, cinematography by Warwick Thornton.
Arc Cinema
1 McCoy Circuit Acton, Australian Capital Territory, 2601