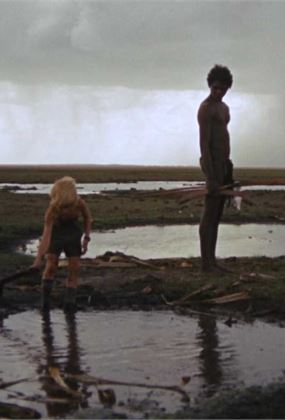 WALKABOUT
AUSTRALIAN NEW WAVE CINEMA SERIES
Sat Feb 18 1:00 PM
Arc Cinema
Allocated Seating
1971 | DCP | AUS, UK | D: Nicolas Roeg
Under the pretence of having a picnic, a geologist father (John Meillon) takes his teenage daughter (Jenny Agutter) and 6-year-old son (Lucien John) into the Australian outback. After failing to shoot them, he turns the gun on himself. The 2 city-bred children are left to contend with the harsh wilderness alone.
They are saved by a chance encounter with an Aboriginal boy (David Gulpilil, in his first feature film) who shows them how to survive, and in the process underscores the disharmony between nature and contemporary life.
Walkabout
, made in Australia by English director Nicolas Roeg, was hailed internationally as a masterpiece when it was released in 1971. It was then unseen for many years because of legal disputes about ownership.
On its rediscovery in the 1990s, film critic Roger Ebert called it 'one of the great films' and 'one of the best-photographed films ever'. Beneath the story's surface lies a deeper and more elusive story about 3 individuals unable to communicate and lost in themselves as well as in the world.
'
A towering work, painted from a palette of feelings and instincts words cannot do justice to' -
Herald Sun
This film is held in the NFSA collection.
Presented in collaboration with Umbrella Entertainment.
Bundle your screening with a visit to our latest exhibition
Australians & Hollywood
and save up to 15%! 
Arc Cinema
1 McCoy Circuit Acton, Australian Capital Territory, 2601